SVHFS Awards

The SVHFS offers recognition to members or amateurs in three areas of VHF/UHF/Microwave activities.


The Runkle Award



A new award has been initiated by the Southeastern VHF Society in memory of Fred Runkle K4KAZ, one of the founders of SVHFS. Fred was our model for technical ability and our go-to guy for questions about RF and test equipment. He did the NF measurements at the conference for several years. Fred was an EE and worked for Collins Radio and Scientific Atlanta among others during his career. He also ran a small electronics laboratory, FSR Labs, from his home shack and shop. He became a Silent Key in late 2006.

The Runkle Award will recognize technical excellence and ability in the Amateur Radio VHF, UHF and Microwave Weak Signal communities. An engraved plaque will be presented each year at the annual SVHFS Banquet.

The members of SVHFS make nominations each year for the annual Runkle award. Nominations are made to the SVHFS President or an appointed committee and the nominees are voted on by the SVHFS Board of Directors. The President or appointee tallies the votes and obtains an engraved plaque for presentation.

Any SVHFS member (anyone who has ever attended an SVHFS conference) may make a nomination. The nominees do not have to be SVHFS members, but it is generally assumed and requested that they will be attending the conference and banquet to receive the award. A brief bio and background on your nominees qualifications are requested for the Board to consider and for the banquet presentation. The recipient is not informed of the award beforehand if possible.

The past winners of this award are:
2009 - Pieter Ibelings, N4IP.
2011 - Steve Kostro, N2CEI
2012 - Steve Powlishen, K1FO


The K4UHF Award



The K4UHF Award is presented annually to an individual in recognition of exceptional contributions and service to the Society, or VHF/UHF in general. Any member may nominate a candidate by submitting a name and supporting data to the SVHFS President. Final selection of the recipient shall be made by the Board of Directors. The award is presented at the conference banquet.

The past winners of this award are:
1998 - Charles Osborne, WD4MBK (now K4CSO), for his many years of promoting vhf/uhf activities.
1999 - Steve Kostro, N2CEI, for his achievements in equipment design and services to the vhf/uhf community.
2000 - Reed Fisher, W2CQH, for many, many technical contributions over the years, particularly in filter design.
2001 - Tom Whitted, WA8WZQ, for all his activities promoting vhf/uhf, contesting, the Dayton VHF Banquet and the Monday night 75 meter weak signal net.
2002 - Dexter McIntyre, W4DEX, for his continuous support of VHF and UHF activities, particularly on 432 and 1296.
2003 - James "Bunky" Botts, K4EJQ, for his continuing service to the vhf/uhf community.
2004 - Al Ward, W5LUA for his continuing service to the amateur community.
2005 - Steve Powlishen, K1FO.
2006 - Joe Taylor, K1JT.
2007 - In memory of Fred Runkle, K4KAZ.
2008 - Sandra Esteves, DEMI (now K4SME)
2010 - Dick Hanson, K5AND
2011 - Jimmy Long, W4ZRZ
2012 - Dennis Motschenbacher, K7BV


Worked All of 'EM Award



The Southeastern VHF Society is pleased to offer a certificate for working all Grid Squares in the EM field, the Worked All of 'EM Award. The following is a summary of the award rules: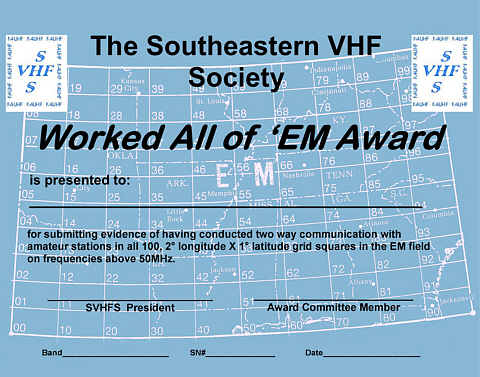 Submit confirmations of having worked all grids EM00 thru EM99.
VUCC confirmation summary sheets from the ARRL, and/or QSL cards are valid forms of confirmation. For example: a VUCC confirmation sheet showing all but one EM grid worked on 6m, plus one QSL card for the missing grid having been worked on 2m would entitle the bearer to a Mixed Band Worked All of 'EM award.
Contacts may be made on any amateur band above 50 MHz. In otherwords, the basic award is mixed band. Entrants submitting 100 cards for a single band will receive a special single band award.
All direct modes are valid, including EME and DSP digital modes
Contacts may not be made via repeaters or packet relay.
SVHFS in 2007 approved the awarding of a satellite version of this award.
Cards can be dated January 31, 1983 or later, i.e. from the beginning of grid squares.
All contacts must be made from a location or locations within the same grid locator or locations in different grid locators no more than 50 miles apart.
Entrant for this award does not have to be a Southeastern VHF Society member.
Entries may be judged by any one of several awards committee members. A list of current committee members will be maintained on the SVHF website. Cards may be brought for checking at the annual conference in April. Contact the member directly for details if cards are to be shipped and checked between conferences. Checkers may not check their own cards of course.

Certificate numbers are awarded based on the date the award is verified, and when name and call sign is forwarded to K4CSO for listing. This website will have the latest official rules and award winner listings.

List of earned - Worked All of 'EM Awards

Mixed Band Award

#1 W4WTA, Carroll "Ace" Norton
#2 W4VC, Vance Carter, EM81
#3 VE3TMG, Terry Greenwood, Windsor, Ontario, Canada, EN82LH (11/10/07)
#4 WA5KBH, George Carr, Lake Charles, LA, EM30ih (11/27/13)

6 Meter Single Band Award

# 1 W5OZI, Pat Rose
# 2 N4MM, John Kanode
# 3 NW5E, Gary Vest
# 4 W4UDH, Ralph Smith
# 5 W4WRL, Wayne Lewis, FM04
# 6 AK3E, Richard Tarbert, FM19
# 7 W4VC, Vance Carter, Waycross, GA EM81 (11/1/07)
# 8 K8EB, Erwin Beemer, Marne, MI EN73 (1/8/08)
# 9 K8SIX, Al Bailey, Waterford, MI, EN82 (7/21/08)
#10 VE3TMG, Terry Greenwood, Windsor, Ontario, Canada, EN82lh (1/12/10)
#11 WX7M, Patrick Mulreany, Wellington, NV, DM08ht (2/11/10)
#12 W0FY, Joe Fleagle, Chesterfield, MO, EM48rp (6/17/10)
#13 NG4C, Connie Mercer, Elizabeth City, NC, FM16tj (6/28/10)
#14 W5WVO, Bill Van Alstyne, Rio Rancho, NM DM65qh (7/31/10)
#15 W9JN, John E. Feltz, Junction City,WI EN54dn (1/9/2013)
#16 K4RWP, Walt Bailey, Johnson City, TN EM86ti (7/24/2013)

2 Meter Single Band Award

#1 N0PB, Phil Baldwin,Holliday MO, EM39wo ( 10/3/08)

Satellite Award

#1 XE2AT, Al de Leon Romo, Aguascalientes, Mexico, DL81uu (5/17/08)